Ad blocker interference detected!
Wikia is a free-to-use site that makes money from advertising. We have a modified experience for viewers using ad blockers

Wikia is not accessible if you've made further modifications. Remove the custom ad blocker rule(s) and the page will load as expected.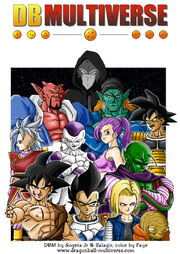 These are my power levels for Dragon Ball Multiverse. I will not do the special chapters. And any fights with forfeits, I will not either.(When I say forfeits, I mean fights that never happened because they forfeited.) I will also not do Chapter 1 because there are no fights. Some of their power levels will change in later chapters, because they probably do not use all their power if their opponent is a lot weaker then them.
Chapter 2:
Universe 13 Nappa-100,000
Universe 10 Cargot-50,000
Universe 18 Goku-100,000
Universe 10 Mahissu-3,000
Chapter 3:
Universe 1 South Kaio Shin-500,000
Universe 8 Butta-47,000
Universe 11 Majin Buu-900,000
Universe 6 Bujin-500,000
Universe 19 Tidar-5,000
Universe 18 Uub-50,000
Chapter 4:
Universe 10 Nail-60,000
Universe 8 Reacum-45,000
Universe 12 Trunks-4,000,000
Universe 8 Coola-130,000,000
Universe 10 King Vegeta-8,000
Universe 18 Vegeta-200,000
Universe 10 Baddack-7,000
Universe 18 Pan-15,000
Chapter 5:
Universe 13 Kakarotto-50,000
Universe 6 Kat-18,000
Universe 17 Cell-800,000,000
Universe 11 Dabra-795,000,000
Chapter 6:
Universe 16 Pan-7,000,000
Universe 6 Bojack-340,000,000
Universe 8 Sauza-50,000
Universe 9 Kulilin-120,000
Chapter 9:
TBA