Gogetenks is a
Mixed Super Saiyan
.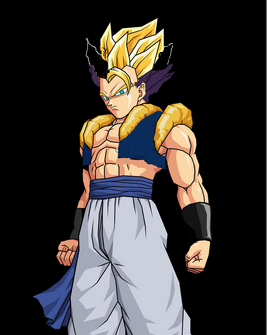 Appearance (Unmastered State)
Edit
He is first born a Mixed Super Saiyan. His hair is like Gotenks, but in the middle Super Saiyan Gogeta. His vest is like Gotenks' but are cuff's like Gogeta. He has the body figure of Gogeta though.
Ultimate State
Edit
In his Ultimate State, He still has purple and black hair but Blonde Hair (First Form and a little bit darker, but his vest is half like Gotenks and half likeGogeta's. His belt is the colors of both.
He was supposed to beat Arctic, but defeated Jenembuuin his Untold Second Coming.
Ad blocker interference detected!
Wikia is a free-to-use site that makes money from advertising. We have a modified experience for viewers using ad blockers

Wikia is not accessible if you've made further modifications. Remove the custom ad blocker rule(s) and the page will load as expected.