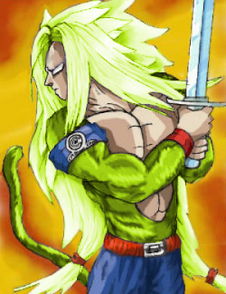 Legendary Super Saiyan 6
is a special branch of
Super Saiyan 6
, this form is the Super Saiyan 6 equivalent of the base Super Saiyan form's
Legendary Super Saiyan
. While it had been thought that
Broly
was the so-called Legendary Super Saiyan, and thus the destined user of the Legendary forms, this in fact turned out to be
Trunks
, when he attained this form during a battle against Majin
Goten
, following his hidden power being released by Old Kai. His
alternate counterpart
has later shown the same ability.
While Broly was able to reach Legendary Super Saiyan, only Trunks (as well as his future counterpart) has reached this form.

Trunks has later shown the ability to reach Legendary Super Saiyan as well, which he uses whenever not using Legendary Super Saiyan 6.
Ad blocker interference detected!
Wikia is a free-to-use site that makes money from advertising. We have a modified experience for viewers using ad blockers

Wikia is not accessible if you've made further modifications. Remove the custom ad blocker rule(s) and the page will load as expected.