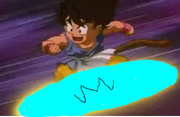 Majin Surfing
is an attack invented by
Nappa77
. This attack was invented by
Goku
when when Majin
Vegeta
went surfing. The attack is simply used when one is backed into a corner and must use a desprate attack. In order to perform this rush attack, you need to think of only villianous thoughts which gives your
Destructo Disk
Majin energy. Then you create a Destructo Disk (which should now be a Majin surfboard) and jump on it! You should finally come flying at your opponet, so you must immidiatley do a backflip right off of it, and the Majin surfboard will explode right at your opponet like a missile (only MUCH stronger).
Ad blocker interference detected!
Wikia is a free-to-use site that makes money from advertising. We have a modified experience for viewers using ad blockers

Wikia is not accessible if you've made further modifications. Remove the custom ad blocker rule(s) and the page will load as expected.