Dragon Ball GT episodes
Pan dancing the Para Para Boogie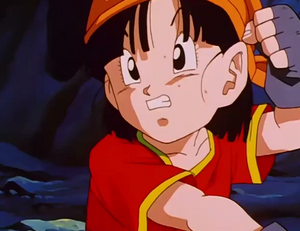 | | |
| --- | --- |
| English title | Pan dancing the Para Para Boogie |
| Series | |
| Saga | Fan Fiction |
| Episode number | 1 |
| Edited episode counterpart | Pan: Dance and Attack |
| Japanese airdate | June 23, 2005 |
Pan dancing the Para Para Boogie
is an edited version special using scenes of Pan during the Para Para Brothers
Pan was on the asteroid planet Beehay with the Para Para Brothers.
As they were starting at eachother, the Para Para Brothers were giggling and took off their armor and began dancing. While the three aliens enjoy their dancing, Pan says that it's tacky as she starts to dance too.
Now that Pan is dancing the Para Para Boogie, Bon Para walks toward her and began pinching and pulling on her cheeks to make her smile as he throws her to a wall.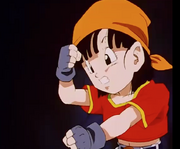 When Pan was getting up, she resume dancing while repeating the words Bon Para are saying as he continues to pummel her. Bon Para asked Pan of what does she think of their special dancing technique as she doesn't think it is dancing. The power of the Para Para Boogie had made Pan's arms feel like jelly and says she's gonna be sick. Afterwards, Bon Para tells Don Para and Son Para to sped up the dancing as Pan keeps on dancing when I giant worms appears from the ground. Pan was unable to move from the spot he was in, the worms scared the Para Para Brothers which freed Pan from their dancing spell as she knockout the worms while the Para Para Brothers tried to retreat, but they were stopped by Pan who makes them apologize to her. They gave her a gift as they leave. Meanwhile back on the ship, Pan opens her gift and reveals to be a miniature version of Bon Para's Boombox as it plays the Para Para Boogie and forces Pan to dance again.
"What's happening to me?!"
— Pan
"I don't want to do this stupid dance!"
— Pan
"Spin it right, spin it left, make a big smile!"
— Bon Para
Ad blocker interference detected!
Wikia is a free-to-use site that makes money from advertising. We have a modified experience for viewers using ad blockers

Wikia is not accessible if you've made further modifications. Remove the custom ad blocker rule(s) and the page will load as expected.